Israel - Ketura Dates Plantation
THE TASTE OF SMART DATES – Mixing Junctions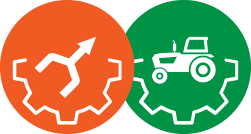 CASE STUDY – MIXING JUNCTIONS
CUSTOMER – KETURA DATES PLANTATION | ISRAEL
The Ketura date plantations cultivate around 800 tons of dates per year, designated mainly for export. At approximately 40%, water represents the highest expenditure for dates plantation. Dates require good quality water, which in Israel is supplied by Israeli Water Company at a high cost and with limited quantity. As a result,  the customer was required to mix expensive potable water with less expensive, high salinity water, in order to obtain an optimal balance between water quality and cost while maximizing date quality and saving water.

"I NEED TO IRRIGATE MY DATES! We irrigate our extensive date fields with marginal water sources. We must restrict maximum EC levels otherwise our dates and trees will suffer and ultimately die. We have two water sources of different salinity levels. Optimal EC levels are between 3-5 mS/Cm (depending on growth stage). We need to maintain an automatic and constant EC level. Do you have a solution?" (our customer)
Dorot Series 300 EC (electrically controlled) valve is installed on the potable water source (which is supplied at higher pressure) and controls the mixing junction's output, to maintain an EC (Electric Conductivity) level of 3-5 mS/cm for Kibbutz Ketura's dates plantation.
Power is supplied via a solar panel provided as part of the SMART IT UP solution.

The project includes 3 identical sites at a distance of several kilometers from each other, on 3 different plantations.
"In 2019, the upgraded generation of ConDor was installed at 3 different sites, permitting regulation of two water supplies, resulting in the correct level of salinity and maximizes cost-efficiency. At the same time, the system facilitates real-time on-site field communication via mobile phones and the cloud-based system.
We had 3 different sites and 3 different installations. It worked very well for us: in the field, the systems work without any support. We want to go further because the solution is both simple and with a lot of functionality – we want to take that functionality further and increase our efficiency (..)"

©2020 Dorot Digital Solutions